Butz Cruises takes super late model victory at Norway Speedway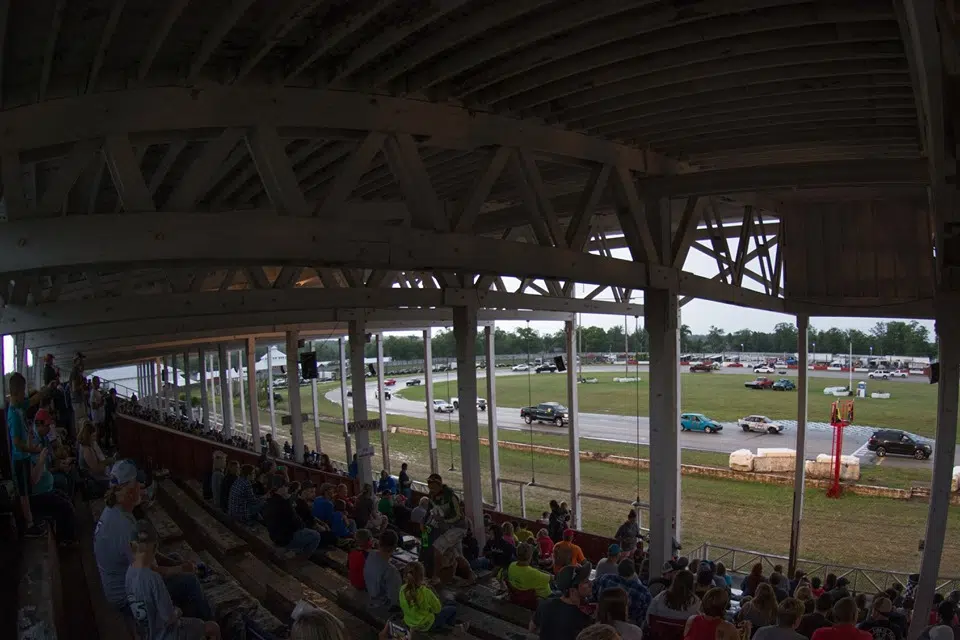 Chad Butz of Green Bay rounded Gregg Haese to take the lead on lap 18 and rose to victory in the super late model event at Norway Speedway on Friday.
Haese took the lead from poleman Will Timmers on the first circuit of the 35-lap competition. Butz quickly jumped to second place with Jason Wells in tow. The three moved away in a three-car freight train with Scott Stanchina joining the trio halfway through the event to make it a four-car scrum for the lead. Butz kept the lead and Haese at bay thanks to a late restart of the race to hang on for the victory.
Haese settled for second, followed by Wells, Stanchina and Robby Iverson.
Local driver Joey Pontbriand slid past Norway Speedway Hall of Fame member Al Bilski at the start of the match and sweated a number of warning periods to win the super stock feature.
The super stock feature was signaled with a red flag halfway through the event when the cars of Tony Wender, Andy Gerwig, and Kelly LaCount took turns stacking during a restart. All three drivers were fine, but the cars sustained significant damage.
Pontbriand kept the lead thanks to several restarts and held second place Ryan Wender and his company at bay for the remainder of the competition. Kevin Peterson, Anthony Scheifelbein and Jeremy Yelle took third to fifth place respectively.
Marion, BJ Shoneck of Wisconsin fought Trevor Pankratz in the final laps to win the 20 round 141 Auto stock car without warning. Faithorn's Elliot Reid skillfully pushed his way through traffic and fended off a Mike Loberger end-of-run charge to win the MC Signs & Graphics 4 banger feature. The event went from green to checkered.
Kingsford's Jim Chartre won the spectator eliminators while Gladstone's Jeremy Stemick swept the action in the UTVs.
Next Friday evening, June 11, Ken's Sports sport trucks will join the four regular classes of the track.
Please see our website norwayspeedway.com and our page on Facebook for more information or email [email protected]
SUMMARY OF THE RACE
BINK'S COCA COLA SUPER LATE MODEL – Chad Butz, Green Bay, WI; Gregg Haese, Francis Creek, WI; Jason Wells, Kingsford; Scott Stanchina, Kingsford; Robby Iverson, Hyde; Braison Bennett, Neenah, WI; Mike Lantagne, Vulcan; Cory Cootware, Iron Mountain; Will Timmers, Kaukauna, WI; Bruce White, Kingsford; Wyatt Spade, Norway; Dean Varda, Vulcan; Scott Bolster, Marquette (DNS)
DASHBOARD – White
HEAT – Haese; Bennett
QUICK TIME – Butz, 14.325
AUTOMATIC SUPER STOCK FUNCTION – Joey Pontbriand Norway; Ryan Wender, Upper Pine Creek; Kevin Peterson, Marinette, Wisconsin; Anthony Scheifelbein, Pembine, WI; Jeremy Yelle, Sables; Bob Scheifelbein, Pembine, WI; Adam Faull, Vulcan; Gary Thom, Aurora, WI; Al Bilski, Norway; John Mattia Jr., Norway; Tony Wender, Kingsford; Andy Gerwig, Norway; Kelly LaCount, Atheltstane, WI; Jordan Massicotte, Kingsford; Destin Bullard, Marquette
HEAT – Bilski; Bob Scheifelbein
DASHBOARD – Foul
QUICK TIME – Pontbriand, 16.091
141 AUTOMOTIVE SALES CAR FEATURES – BJ Shoneck, Marion, WI; Trevor Pankratz, Little Suamico, WI; Paul Bourgeois, Montagne de Fer; Todd Schmidt, Spread Eagle, WI; Travis Hulsizer, Menominee
HEAT – Schmidt; Nick Kroehler, Appleton, WI
QUICK TIME – Paul Bourgeois, Iron Mountain 18.243
MC SIGNS & GRAPHICS 4 BANGER FEATURE – Elliot Reid, Faithorn; Mike Loberger, Marinette, WI; Brent Ayotte, Hermansville; Trevor Cronick, Faithorn; Zach Gazda, Vulcan
HEATER 1) Ayotte; Isaiah Lawrence, Spruce, WI 2) Cronick; Mike Loberger, Marinette, WI
QUICK TIME – Alex Bellmore, Hermansville, 19.126
UTV FEATURE – Jeremy Stemick, Gladstone; Nick Pilot, Kingsford; Nick Larson, Gladstone
HEAT – Stem; Larson
SPECTATOR ELIMINATOR – Jim Chartre, Kingsford